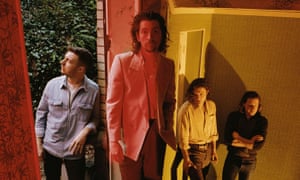 – Arctic Monkeys current 2018 style
I decided to analyse the rock band 'Arctic Monkeys' website in order to further understand my knowledge of website terminology, and get a grasp of what a band's website should look like. I found that they have many conventional website features such as:
A leader board at the top of the page
A colour scheme to match their latest album
Font to match their latest album
Social Media links
However, they do stray away from common conventions. For example, whilst you would expect for there to be a hero shot on the home page, there is not one. Instead, they have a documentary about the creation of their latest album. I found that nearly ever decision made in the creation of this website was in order to promote their latest albums. From the themes, colour schemes and scroll down layout, it is evident that their main goal is to expose their latest album to their audience. Contextually, this is probably because it is so different than their previous albums, and so it may take a bit of pushing to introduce it to their fans.
Overall, I believe that this helped my understanding of both how we should do our website (In terms of layout, promotion, links etc.) and the website terminology.